Interview: "The Space Between Us"
With host Jovelyn Richards on her KPFA/94.1FM Women's Magazine radio program out of Berkeley, California
Dr. D'vorah Grenn was interviewed Monday May 2, 2022 by Host Jovelyn Richards on her KPFA/94.1FM Women's Magazine radio program "The Space Between Us" (out of Berkeley, California). Jovelyn, a playwright, educator and captivating storyteller describes the show as focusing on "the things that bring women together and pull us apart, all the worlds between us and how we can create that center for ourselves where we can all come together."
Women's Magazine presents and discusses women's lives and issues globally and locally from a radical, multiracial, feminist, mujerista, womanist perspective.
Creations : Videos & Podcasts
See Judy Grahn read her beautiful (and visually breathtaking!) poem "Bowls", and meet other wonderful poets in Poetry Witch Community's "An Exaltation of Goddesses"  HERE.
Grahn starts speaking at nine minutes in.

www.commonalityinstitute.org
www.poetrywitch.com
Enjoy The Revelation Project Podcast featuring Lilith's Fire: Honoring the Sacred Feminine with D'vorah J. Grenn, Ph.D., Kohenet
---
Creations : Art
Check out powerful works by Marni Rothman, Jewess Dept. of Magic, at:
https://artofwhere.com/artists/jewess-department-of-magic
https://www.instagram.com/jewess_dept_of_magic/ and
https://www.instagram.com/p/CGIQHMpF4GK/
Also, see her page at: https://linktr.ee/jewessdeptofmagic
---
Creations : Writings
Just out from poet and cultural theorist Dr. Judy Grahn!
Eruptions of Inanna: Justice, Gender, and Erotic Power by Judy Grahn BOOK REVIEW by Carolyn Lee Boyd
With gratitude to Leiah Bowden https://www.lightspeak.com/ for her beautiful poetry and imagery in this piece, "The Gift of the Drum" — and for including my drum: https://www.lightspeak.com/post/the-gift-of-the-drum?fbclid=IwAR2Rf_cb2c8CxKEPtIwFNH2Xy17-rztBvPatqBLuCpx0HJm__XKQ_1XellY
A look at how contemporary thinkers are redefining the religious notion of 'sin', and at the attitudes and behaviors considered erotic from a woman's point of view – an excerpt from Lilith's Fire: Reclaiming Our Sacred Lifeforce by this site's creator.
A fresh example of the ways we can re-vision icons and mythical-religious symbols from mythologist, writer and sex activist Cosi Fabian (1991).
A fanciful midrash by biblical scholar Rachel Havrelock (1998).
Important Recent Releases!
Flowers of Torah: Prayers of a Priestess by D'vorah K'lilah (Volumes 1 & 2 available from the author)
Groundbreaking, earth-loving, woman-honoring, historically-inclusive Jewish siddur for personal prayer practice and home use. This book of prayers for the Queen of Heaven composed by a Kohenet, a Jewish Priestess, is based on millennia of Ancient Near East cultural wisdom.
Author email: dvrkllh@gmail.com
Witches and Pagans: Women in European Folk Religion, 700-1100 by Max Dashu
Swa wiccan taeca∂ ::: "as the witches teach."
So, explained an Old English translator, witches counseled the people to "bring their offerings to earth-fast stone, and also to trees and to wellsprings—as the witches teach."
These women were carrying out ceremonies of reverence for Nature—something very different than what we have been taught about witches. …
New from Veleda Press: http://www.veleda.net/ Downloadable Contents, Preface, and chapter excerpts
See praises at http://www.veleda.net/witchesandpagans/praise4.html
Works from The Girl God Press  https://www.thegirlgod.com/books_frontpage.php, created by Trista Hendren and sustained by her, together with her amazing crew who produce many treasures for girls and women every year, including: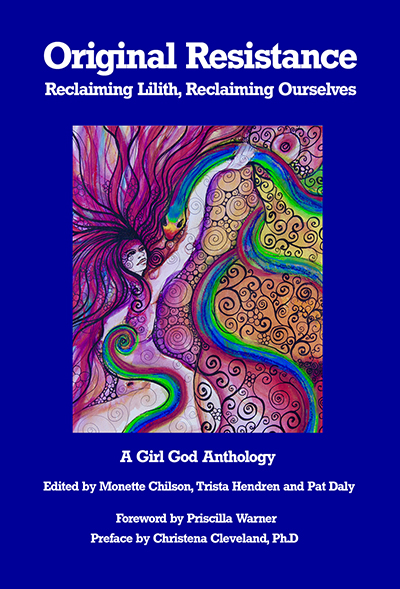 My Name is Medusa by Glenys Livingstone Illustrated by Arna Baartz
A new children's book , the story of the greatly misunderstood Goddess, including why she likes snakes.
'My name is Medusa' explores the "scary" dark side, the potency of nature and the importance of dreams.
Arna Baartz gorgeously illustrates this tale by Glenys Livingstone, teaching children (big and small) that our power often lies in what we have been taught to fear and revile.
Authors Site: https://pagaian.org/my-name-is-medusa-childrens-book/
Amazon Link: www.amazon.com